Email steeringclutch@gmail.com

for orders or questions.




CONTACT OUR OFFICE at 1-208-342-8911
General Gear and Machine
733 Desert Wind Rd.
Boise, Idaho, 83716 US
MONDAY THRU FRIDAY 8 AM TO 4 PM MTN TIME

Construction Equipment Parts and Attachments
Used Parts, New Parts, Rebuilt Parts, Spares
Caterpillar, International Harvester-Hough-Komatsu, Allis Chalmers, Fiat-Allis, John Deere, Clark-Michigan-Volvo-VME, Galion, Wabco, Case, Terex, Rockwell, Allison

Hey! I'm a junkman! All manufacturers' names, numbers, symbols, and descriptions are for reference purposes only. It is not implied that any part listed is the product of these manufacturers.
Looking for a part?
If you need a part for your Industrial tractor, Crawler, Dozer, Loader, Scraper, or Motor grader, this site will work for you. (And so will I!) I have been parting out construction equipment for 40 years (for myself), previously for a Caterpillar dealership, and we have over 50,000 part numbers in our database. (And many more parts in the yard, still on machines and not yet inventoried) For old Caterpillar Parts Books and Manuals CLICK HERE to see what we have for sale. For many of the old and antique machines, Cat, IH, AC, JD you will find many sources, free downloads, on our steering clutch and picture album pages for parts, service, operations. For a quick access to our steering clutch and flywheel clutch parts see the grid below. There is also a grid toward the bottom of the page covering our picture albums. For information and helpful advice on the old wheeled tractors (as in ANTIQUE ) I highly recommend www.antique-tractor.com . They used to be ATIS-NET. Besides a helpful population of experienced antique tractor owners there is also a list, by State, of salvage yards for your parts searches.

Picture Gallery

FOR A LIST OF EQUIPMENT WE HAVE PARTED OUT CLICK HERE

Some of the machines currently being parted out had good engines:

ALLIS CHALMERS 10,000 ENGINE FROM TL20 WHEEL LOADER $2,500.00


CAT D311 DIESEL FROM CATERPILLAR D2 5U CRAWLER $2000.00
CAT 3304 ENGINE FROM 950 81J WHEEL LOADER $3800.00
CAT D318 FROM CAT 12 8T OIL CLUTCH MACHINE, W/O S.E. $3000.00

CUMMINS 6BT590 ENGINE FROM CASE W14B, ALSO FITS W14C WHEEL LOADERS COMPLETE GOOD RUNNING TAKEOUT
$3,500.00
CUMMINS M11-C 6 CYL DIESEL FROM LINK BELT LS5800 EXCAVATOR $4500.00
CUMMINS KT1150 GOOD RUNNER 415 HP $7000.00
CUMMINS KT1150 ROTATING CORE $4500.00

Detroit 4-71 from Clark Michigan 125 loader $2,000.00
DETROIT 6V71 (RETROFIT TO HD11 CRAWLER) $3,000.00
DETROIT 8V71 from Michigan 175B loaders $3,000. ea

INTERNATIONAL DT-239 ENGINE FROM IH 125E TRACK LOADER $2,500.00
INTERNATIONAL DT-429 ENGINE FROM IH TD20B CRAWLER DOZER $3,500.00
INTERNATIONAL UD554 ENGINE FROM TD15-150 SERIES CRAWLER $2500.00

ISUZU 6BDIT FROM HITACHI EX200LC ENGINE MODEL $4,500.00
ISUZU QD27 2 CYL DIESEL FROM GERLINGER LC30 $1,500.00

JOHN DEERE 344G LOADER ENGINE MODEL R4045T $3500.00
JOHN DEERE 350B CRAWLER LOADER ENGINE $2500.00
JOHN DEERE 6-531 ENGINE CURRENTLY IN RUNNING 644B WHEEL LOADER $4,000.00
JOHN DEERE 6-414 ENGINE IN 690D EXCAVATOR $3,500.00
JOHN DEERE 6081 ENGINE IN JD 330C EXCAVATOR $4,000.00

KUBOTA B2203 DIESEL ENGINE, 51HP, FROM BEUTHLING ROLLER $1,500.00

VOLVO BM L50B ENGINE MODEL TD40GA $4,000.00
VOLVO L50F ENGINE MODEL D5D TIER III GOOD RUNNER $5,500.00
D5D CBE3 SERIAL#11222774 SPEC#17220946

Rarely do we get a machine in with good track, and it does not stay around very long. We currently have GOOD USED track for the following machines.
WE CAN SUPPLY NEW UNDERCARRIAGE, INCLUDING TRACKS, ROLLERS, FRONT IDLERS, AND SPROCKETS TOO!

THE USED TRACK/UNDERCARRRIAGE WE CURRENTLY HAVE ON HAND ARE:

ALLIS CHALMERS BOTTOM ROLLERS FOR HD9 $160 EA

ALLIS CHALMERS BOTTOM ROLLERS FOR HD11 $160.00 EA
ALLIS CHALMERS HD9 HD11 TRACK 38 SECTIONS PER SIDE
EXCELLENT SHAPE
FITS HD9'S AND HD11'S UNDER 10001 SERIAL NUMBER
BOTH SIDES OF TRACK 2500.00 TOTAL

HD9/HD11 RH TRACK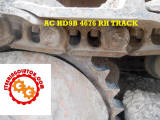 HD9/HD11 LH TRACK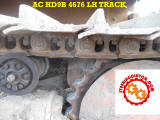 CASE 9007B EXCAVATOR UNDERCARRIAGE, GOOD USED
CAT D2 EARLY ROLLER SHELLS 120.00 EA SF OR DF

CAT D2 LATE STYLE ROLLER SHELLS 150.00 SF 120.00 EA DF

CAT 943 TRACK LOADER TRACK GROUPS 3T2184-->7P6506
S.A.L.T 38 SECTIONS PER SIDE
14 INCH DOUBLE GROUSER PADS W/ALLIGATOR MASTER SECTION
2500.00 TOTAL FOR BOTH SIDES
RH SIDE
LH SIDE
CAT D6 AND D6B BOTTOM ROLLERS 125.00 EA
CAT D6C FRONT IDLERS 900.00 EA

CAT D7 3T OR D7 17A TRACK GROUP ONE SIDE 1800.00

CAT D7E D7F TRACK LINK ASSY...ONE SIDE 1900.00


HITACHI EX200 LC-3 UNDERCARRIAGE RH SIDE LH SIDE


INTERNATIONAL TD9 TRACK 33 SECTIONS/SIDE 18 INCH PADS 1900.00 TOTAL
WILL ALSO FIT ALLIS CHALMERS HD5/HD6
RIGHT HAND TD9 TRACK
LEFT HAND TD9 TRACK

INTERNATIONAL TD18-TD20 TRACK TWO SIDES 2500.00 TOTAL

INTERNATIONAL TD18-TD20 LINK ASSY...1250.00 ONE AVAILABLE

JOHN DEERE 330LC EXCAVATOR UNDERCARRIAGE

JOHN DEERE 650G 650H 650J TRACK GROUPS S.A.L.T 38 SECTIONS PER SIDE
14 INCH DOUBLE GROUSER PADS W/ALLIGATOR MASTER SECTION
2500.00 TOTAL FOR BOTH SIDES
RH SIDE
LH SIDE
JOHN DEERE 790D LC TRACK GROUPS (2) 3,000 TOTAL
JOHN DEERE 790D BOTTOM ROLLERS 140 EA
JOHN DEERE 690 ELC BOTTOM ROLLERS 135 EA

MITSUBISHI (NEW)BD2 ROLLERS 137.50 EA

CONTACT OUR OFFICE
at 1-208-342-8911

General Gear and Machine, 733 Desert Wind Rd., Boise, Idaho, 83716 US

*All prices are in USD & do not include shipping
All prices are for new aftermarket unless stated otherwise
All OEM part numbers are for references only

FOR TRACTOR PARTS EMAIL:steeringclutch@gmail.com