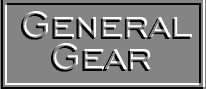 Tractor Art Michigan model Ford Model tractor salvage art
TRACTOR ART AND ARTISANS
PLEASE READ:
While I am not talented enough, or patient enough, to create the objects shown below, I do appreciate the end results of the artisans who create them. These links and contact information are placed here unsolicited. Simply COOL!
NEW STEERING CLUTCH DISCS - AFTERMARKET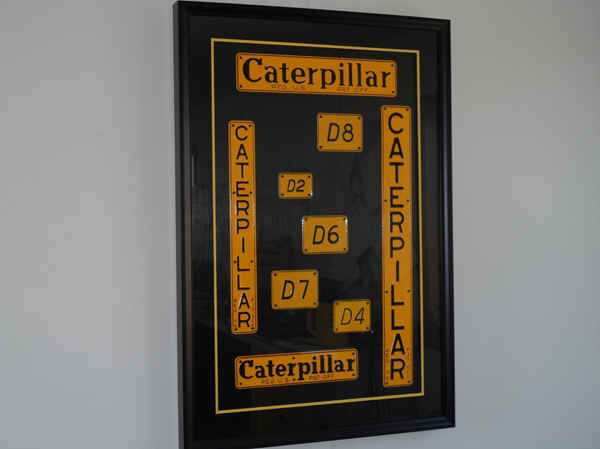 FOR THE "CATERPILLAR" VERTICAL AND HORIZONTAL SIGNS ALONG THE
RADIATOR TOPS AND SIDES OF RADIATOR SHELLS
(FOR D2 D4 D6 D7 D8 RADIATORS AND HARDNOSES)
YOU WILL NOW BE ABLE TO GET THEM FROM WWW.ACMOC.ORG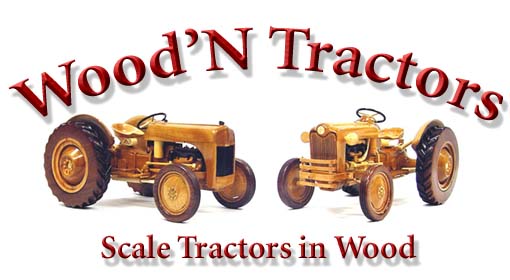 | | | | |
| --- | --- | --- | --- |
| | | | |
| Picture of Wooden Model Austin-Western Grader made by Doug Goff | Click this image of a wooden model Austin-Western Grader to go to DOUG Goff's (the artisan's) website | Picture of Wooden Model Austin-Western Grader made by Doug Goff | Doug's new Project |
| Side View of new Project | | | |


JOHN LOPEZ STUDIO
WELDED ART SCULPTOR







BOISE BILLET
Art by Joe Barber
Joe makes his designs in his shop using stainless steel, titanium, and aluminum. A lot of lathe work, but the results are as beautiful as they are solid. Joe is not on the web, has no e mail, so if you want to contact him, call him at 208 376 9490. He has made many card holders for businesses around the Boise valley and only produces his art for one customer per design. For example, he made my D4, and will not make another for anyone else. If I had asked for 4 of them though, he would have been glad to oblige, but would not have made another for someone else. So, if you really want something unique, call Joe.




HYWEL THOMAS (from Wales)
Hywel is a graphics designer who is into making model railroads and their environs. He originally contacted me for assistance is getting some actual specifications to make a Michigan 125A straight frame. His plan " If I can manage it the loader (probably only about two inches long at 1/76 scale) will be powered using a couple of small hidden railway wheels behind the road wheels and so will 'drive' along the track with it's wagon... I Hope! If you're interested the 'old' layout (much of which will survive) can be seen at https://www.emgauge70s.co.uk/ (go to 'Layouts' on the left side - mine, Morfa Bank Sidings, is about half way down on the right." In making his working model Hywel was creating the model faithfully and his "weathering" and finished product show his attention to detail. When he puts the video together of the working rail yard, I will be sure and post it here.

MICHIGAN 125AG
STRAIGHT FRAME WHEEL LOADER

MICHIGAN 125AG SER#13548
WAUKESHA GAS 195
DOES NOT RUN

MICHIGAN 125AG 13548
IN FOR PARTS
12/14

This table is one of two made for us by a friend of the family. It is made from a Cat D2 flywheel ring gear.



Back in the late 1970's Caterpillar changed and "modernized" their corporate logo. This was still the time period, pre-word processing,
where print ads and newspapers used printer blocks to create articles and advertising inserts. This is an example of a printer's block used at the time. And yes, the images and words are backwards so that they could be transferred to the newsprint paper during the printing process.




A friend and customer from down-under sent me this picture from a tractor show down in Tasmania, Australia. Yes, it is all wood and rolls!

Occasionally you stumble across an iconic product, commonly used around the farm or shop, and realize just how important it has been in the development of our agricultural and industrial history here in the US and the world. Such a product is made by R-W, Richards-Wilcox. They make the specialty hardware and roller tracks used in your sliding barn or shop doors (among many other products) and they have been around since 1880. To me they produce a product that is in the same classic category as the mouse trap. The design and product, when initially developed, was so well thought out that there was little room for improvement and no significant changes have ever been required. That kind of ingenuity should be recognized and celebrated. This is real function and certainly art when it comes to creating that kind of enduring design.
So why a picture of a fence!? This fence was designed by me years ago and made from R-W sliding door tracks as the upper and lower rails. All steel components were powder coated. These tracks were salvaged from aircraft hanger sliding doors at the original Boise airport called Bradley Field. This was the airport that Wiley Post flew the very first US Air Mail flight from back in the 1930's. In the 1980's, we were moving our construction equipment salvage yard from the old Bradley Airfield in Boise to our present location and were asked to knock down the old hangars while we were moving. We salvaged the sliding hanger doors and much of the hardware. Using the tracks as fence rails is basic and simple. You install the wooden slats (we used 5/8" cedar) into the upper rail until the lower rail is cleared and then you drop the bottom into the lower rail. A one inch tall wooden spacer is installed inside the full length of the the bottom rail to prevent the fence slats from dropping too low and having the top edge fall out! Each slat is installed basically like you would install your window screens or your sliding door screens. There are no nails or screws!
I recently discovered, while de-rusting more roller tracks to add onto the above fence, the R-W company logo stamped into the tracks. These tracks were dated 2-10-31. THAT is pretty impressive! While the R-W warranty is very good, 10 years, I would suggest that they are too conservative in their warranty estimate. Compare the R-W warranty to new OEM parts bought from most of your major equipment manufacturers, 30 days comes to mind, occasionally stretched to 90 days for some parts. I fully expect to see the above fence, the steel structural pieces, which are now 90 years old, to see their 150th birthday. That will almost coincide with R-W's 200th year in business. I won't be there in the future for that anniversary but the fence could be. If the fence gets torn down it won't be because the R-W door roller tracks failed.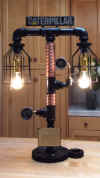 The above lamp was designed and built by Earl Sheridan. It gives off an industrial vibe approaching the "Steam-Punk" genre. The base was made from timing gears from Caterpillar D2-D4 starting engine and pedestal is accented with some old original gauges reclaimed form CAT D8 8R-2U dash. If you have such a project in mind that you want some help with you can contact Earl at earlcs84@gmail.com





For questions or inquiries you can contact by email steeringclutch@gmail.com
Contact John Parks at 1-208-342-8911
General Gear and Machine, 733 Desert Wind Rd., Boise, Idaho, 83716 US
Home | Clutch Discs | Crawler ID Tags | Inventory Index | Inventory Search